Running PSP 2018 on my Dell with Windows 10 x64 and have some weird issues. I can edit a file and do a save as and it works fine.... UNLESS I am trying to save it to my Pictures or Documents folders. If I open a file from my Pictures folder, edit it and do a save I get an error message stating it couldn't overwrite the file and to check my permissions.

Then when I click OK I get an error that it couldn't write to the file.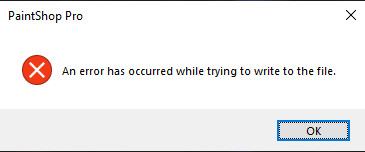 I get these same messages if I open a file from Pictures and then try to save it. I also the error if I try to save it to my Documents folder. BUT I can save it just fine to any other folder on my C-drive (or any drive) and can even save it in my Videos folder. But absolutely cannot save to my Pictures or Documents folder with PSP 2018.
Also, if I open an image from Pictures with Photos, FastStone Image Viewer, Paint, or any other application other than PSP 2018 and it WORKS PERFECTLY. I only get those errors when editing and trying to save with PSP 2018.
Any idea why this only happens with PSP????